Welcome to the Kimetsu no Yaiba Wiki!
Kimetsu no Yaiba is the tale of Kamado Tanjirou, a young boy who sells coal to make a living for his family. But after his entire family, save his sister, are murdered by a Demon, he is thrust into a world of fear and despair. After an encounter with a Demon-killing swordsmen, Tanjirou and his sister, who is now a Demon herself, must discover a way to end her curse and track down the monster who destroyed their family.
A tale of bloodstained swords!
Latest Chapter: Chapter 89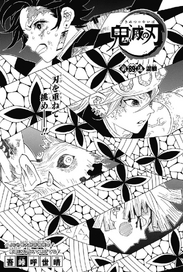 Ad blocker interference detected!
Wikia is a free-to-use site that makes money from advertising. We have a modified experience for viewers using ad blockers

Wikia is not accessible if you've made further modifications. Remove the custom ad blocker rule(s) and the page will load as expected.